Joe
Chief Operations Officer
Joe Hrabak has spent almost 30 years of his life in Veterinary Medicine. He started a LONG time ago as a kennel technician, quickly working his way through the ranks in the hospital from assistant to technician until reaching the level of director where he spent the better part of 19 years. Joe has had the profound honor of working with some of the biggest names in Veterinary Medicine throughout his career. Those opportunities have allowed him to learn from some of the best in the industry and allowed him opportunities to work on a huge variety of species of animals. He has worked with large cats, non-human primates, venomous snakes and lizards, raptors to parrots, and of course tens of thousands of dogs and cats. His unique career path has allowed him to see so much of this great nation and North Carolina ranks very high on his list of favorites. He enjoys spending time in "his second home, North Carolina", but lives in the sunny state of Arizona.
Read More
Joe was "that kid" that would see an animal on the side of the road and scream and cry until his parents would pull over so he could see if it was okay. He has always loved helping strengthen the human-animal bond and has committed his entire adult life to this effect. His favorite thing about Veterinary Medicine and working with animals is simply, that animals always show their appreciation for life, he has always enjoyed seeing pets come in very sick, not knowing if they will ever feel better, then the next thing they know they are wagging their tails or pushing their heads against you and they go home. His passion for management and training became very apparent to him early on. He enjoyed teaching and mentoring employees on new skills and techniques that they likely never knew were possible.
He knew this was the right profession for him because there isn't a day going by where he says "I have to go to work", rather he says "I have to go do what I love to do."
Outside of work, he has a beautiful wife and 2 grown gorgeous daughters, 2 perfect grandchildren (1- is a heart warrior). They share their home with Gracie (Cocker mix), Smalls (DSH), and Bandit (Ball Python). He loves cars, baseball, camping, fishing, and all things Disney.
Ally
Marketing Specialist
Ally attended the University of North Carolina Wilmington and graduated in 2018 with a marketing degree. She has always had a passion for marketing and absolutely loves connecting with the community and people. She was originally born and raised in Raleigh, North Carolina and has always felt that NC is home!
Her love for animals began with her very first pet, Millie. Millie was their household Beagle mix and Ally developed a strong bond with her that lead her to feel an intense passion for ALL animals. Throughout the years, she has spent a good chunk of time volunteering for animal rescue organizations and shelters and she feels it was an honor to be in a position where she could continue to pursue her passion for animals, professionally.
Read More
She knew she was in the right profession when she could use her skills to help advocate for the proper care and treatment of animals. Ally feels honored to promote FVC because of their great team and the high-quality service they provide.
Outside of work, she enjoys spending time with her seven-year-old Yellow Lab, Mabel. They enjoy traveling and taking leisurely walks throughout the neighborhood and along trails. Mabel has been her fur baby since she was only a few weeks old and Ally is grateful every single day to have her in her life. She also enjoys gardening, running, reading, and spending time with her parents and younger sister!
Brandi Rogers
Hospital Co-Manager/ Lead Veterinary Technician
Brandi was born and raised in Salisbury, NC. In 2005, she moved to New Hampshire where she stayed for almost 17 years. NH is where she began her career in veterinary medicine in 2009 as a receptionist at a mixed animal practice. Over the years, she was trained in all aspects as a veterinary technician (General Practice and ER) and eventually stepped into the roles of technician supervisor and practice manager.
Her three favorite things about her career are optimal patient care, educating pet owners and staff training.
Brandi is married with two sons, two dogs and a cat. She enjoys the beach, traveling and bingeing a good show.
Alana
Veterinary Assistant
Bio coming soon!
Emily Garris
Hospital Co-Manager
Emily has lived in Albemarle her whole life. She went to Campbell University, majored in Biology and minored in Environmental Science. She graduated in 2017 and started working at Fairview in 2017. She has been here 5 years!
She has always wanted to work with animals in some way. The opportunity to work here just worked out. She aspires to own her own boarding kennel and farm one day!
Emily got married about a year and a half ago to Cody! They have a German Shorthair Pointer named Murphy. She also works at a Wedding Venue on the weekends!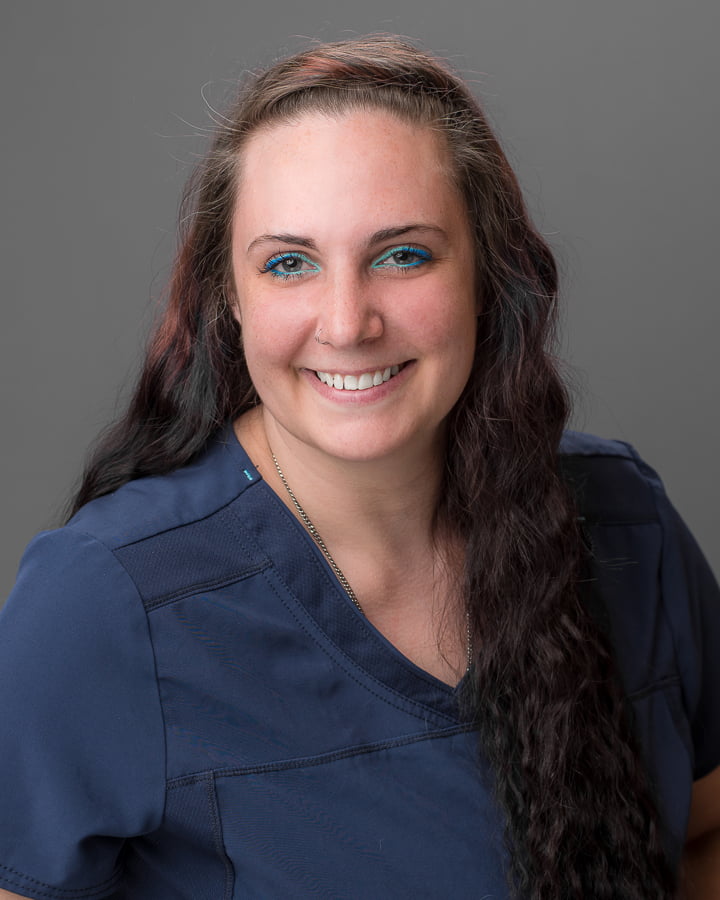 Aubrey Maiers
Receptionist
Aubrey was born in Michigan but has lived in California, Arkansas, Alabama, and North Carolina. She went to school for Criminal Justice and Forensic Psychology but decided animals were far more rewarding.
Her immediate family consists of her parents, her son, and her girlfriend. Her son is homeschooled and is part of the Boy Scouts.
Aubrey is a professional photographer with an antique camera collection that includes cameras from 1881 and 1901. She also enjoys travelling, antique shopping and hiking.